Our Lady and Me
Novelist and screenwriter Frank Cottrell-Boyce writes about his relationship with Mary, Mother of Jesus, and our work.
Published on
The last walk I took with my mother before she died was through the grounds of what had once been a Jesuit seminary – Loyola Hall. It had recently been converted into a wedding venue, its chapel lined with feathers, so Mum said it was like standing under a giant chicken. 
There's a wooden bower hidden in the trees, for you to pose for photographs on your big day. Inexplicably there's also a gigantic model of King Kong. But there's also, still, the little grotto with a statue of St Bernadette kneeling before Our Lady. 
Coming across it that day, Mum's whole life seemed to resolve itself into a posy of Marian moments. This was destination of our May processions when I was a child. The girls in the class strewing the way with petals. The altar boys carrying another statue of Mary. The back of the line singing Bring Flowers of the Rarest a few lines later than the front.
In her own childhood, Mum had crowned a similar statue on Scotland Road in Liverpool. She'd been chosen partly because she was pretty and pious but also because her father had just died.  May processions for her were always shaded with sadness.  
The world of May processions has long gone. Mary herself didn't loom very large in the geography of my own faith. I preferred a more manly less floral faith.
Until five or six years ago when his dementia finally confined my father to his bed and my mum –his primary carer – to her house. It would've been a hard cross to bear at any time but during those isolating months of lockdown, you might have thought it would be unbearable.
In fact, mum often seemed lighthearted, even happy. Her secret strength was gratitude. She thanked God for every little thing that went right in the course of the day. And she thanked Him at the intercession of Our Lady. 
She spoke to her so much – and so frankly (don't let me down now, Mary) – that Mary became a near physical presence in the house. Conversations with my dad were strange labyrinths of dream logic. 
Those brisk, straightforward confidings in Our Lady were a happier counterpoint. Far from being the folksy, watercolour custom I'd dismissed, her Marian devotion was tough no-nonsense and essential. 
Like the love of a mother. I don't know how I hadn't noticed. Some of my own children had been regular helpers at Lourdes since their mid-teens, showing the same tough, demanding expressions of love that I'd seen in Mum.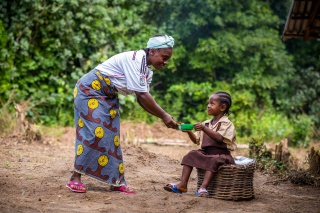 For us this all came together when we heard about Mary's Meals and the great work this charity does in some of the poorest countries in the world. The founder Magnus Magnus MacFarlane-Barrow had the brilliantly simple idea of serving a nutritious meal in a school setting, bringing education and nutrition together in a single act of love. 
The charity is named after Our Lady because it is powered as much by prayer as it is by donations and because – as our friend Fr. Frank Mulgrew, a priest of the Diocese of Salford in the north of England, likes to say – the first person to have Mary's Meals was Jesus! 
As an organisation it has the same tough, practical clear thinking I saw in my mum's relationship with Our Lady. 
It is a no frills, cost-effective charity which works with communities in the places where it serves meals. It costs just £15.90 for Mary's Meals to feed a child for a whole school year.
It walks with a light tread that calls to mind the great medieval Marian hymn "I syng of a mayden" which talks about god's grace falling "as dew in April that falls on grass". 
The most Marian thing about Mary's Meals is that it has the courage to say yes. Yes to the great command to "feed my sheep" - both spiritually and physically. Just as Mary said yes. 
Faith, hope and charity are interdependent in my life and Mary's Meals embraces all of them.
The charity now feeds more than two million children in 20 of the world's poorest countries. The promise of a good meal attracts these hungry children into the classroom, giving them the energy to learn and hope for a better future. You could think of each of those meals as a petal in a coronet of flowers. Bring flowers of the rarest.