Crisis in Ethiopia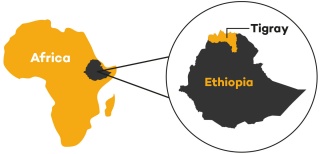 Crisis in Ethiopia
Months of brutal fighting across the Tigray region of Ethiopia have left millions of internally displaced people in desperate need of food aid. More than 150,000 destitute and traumatised people – including children who have lost their parents – have sought refuge in the region's capital, Mekelle. 
Mary's Meals is working hard to provide daily meals and essential items to some of those most in need. 
We've been working in Ethiopia since 2017, feeding hungry children across Tigray while they learn. Schools are closed as fighting rages on in the region and many of the children who used to enjoy Mary's Meals are likely to be among those fleeing for their lives and facing starvation. Our source tells us that "every household [has] experienced, in one way or another, the tragedy of the war."
In these uncertain times, your generosity is needed more than ever.
"The people of Tigray are living in fear of imminent starvation. The brutal fighting, taking place away from the eyes of the world, has forced many to flee their homes. The city of Mekelle is being overwhelmed by displaced people arriving with nothing at all. Many of them are unaccompanied children who have lost their parents.
"Probably amongst those children are some who used to eat Mary's Meals at school, because before this conflict we were serving 24,230 children in the region each day."
Magnus MacFarlane-Barrow, Founder of Mary's Meals
How can you help 
Thanks to your ongoing support, we are currently providing 20,000 internally displaced people with vital food aid, serving daily meals at several schools across Mekelle that have been turned into temporary shelters.
Tragically, there is likely to be more violence, trauma and pain to come for the people of Tigray.
Please give what you can to help us save lives in Tigray.
Thank you for standing together with us and making sure this crisis is not forgotten.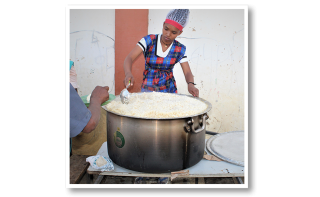 In uncertain times, your generosity is needed more than ever.