Madagascar Appeal

Madagascar Appeal 
We usually serve our nutritious meals to hungry children in 400 schools across the remote island, which is located off the eastern coast of Africa. Sadly, only a handful of these schools are still open after Cyclone Batsirai struck earlier this month – sweeping away buildings and access routes, and leaving devastation in its wake. Communities have been further impacted by another cyclone which struck in the past few days.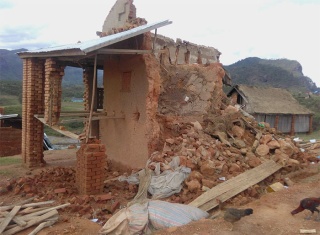 Our partner on the ground – who describes the situation as 'catastrophic' – is delivering aid to families of the 46,976 children who would normally eat Mary's Meals at school.
We're hearing distressing reports that rice fields, due to be harvested in the coming weeks, are swamped with water, sand and silt. As a result, precious food supplies will be even more hard to come by.
Mary's Meals will continue to support our partner's heroic efforts as they work tirelessly to restore access to clean drinking water, medical supplies and basic amenities.
Please give if you can.
The people of Madagascar urgently need our help.