Pray In Ramadan

Supporting Mary's Meals this Ramadan
Mary's Meals supporter, Zahid Nawaz, approached us to suggest we should ask Muslims during Ramadan to pray for the children we feed and make Sadaqah (voluntary giving) so that we can reach the next child waiting.
He says: "Ramadan reminds us of those around the world, who are less fortunate than us – who don't have enough food and water and are chronically hungry.
"Giving to this charity feels like a natural fit with our respect of Mary, who we know better as Maryam, Peace Be Upon Her.
"I love the simplicity of Mary's Meals' mission. Its nutritious school meals attract hungry children into the classroom, giving them the energy to learn and hope for a better future.
He adds: "By supporting Mary's Meals, my Sadaqah donation will have a positive impact, helping to transform the lives of more children living in the world's poorest countries."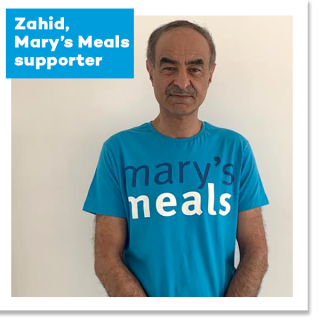 Pray for the children we feed in this special month
We serve our life-changing school meals in 20 of the world's poorest countries – including Yemen, Syria and Lebanon. 
The promise of a good meal attracts hungry children into the classroom, where they can gain an education and hope for a brighter future.
Our charity is named after Mary, the Mother of Jesus – who is honoured in Islam and known as Maryam in the Quran. Some of the children who eat Mary's Meals refer to our nutritious food as "Maryam's Meals".
It costs just £15.90 to feed a child with Mary's Meals every day for an entire school year – meaning the money donated by Sadaqah could change the lives of many more desperately hungry children.
While we recognise the important place of prayer in our work, Mary's Meals consists of, respects and reaches out to people of all faiths and none.
Wissam's story
In the war-torn city of Aleppo in Syria, 11-year-old Wissam* wants to be a doctor when he grows up. He is one of 4,208 children in Syria who eat Mary's Meals each day at school.
Although there is no longer fighting in the streets, many buildings have been reduced to rubble, sources of electricity and running water have been damaged or destroyed, and families are struggling to put food on the table.
The sandwich and piece of fresh fruit that Wissam and his friends receive at school each day helps to feed both their bodies and their minds.
Wissam says: "Some children can't go to school because of the war. Life is boring without school. If I didn't go to school, I'd miss my friends and the meal I am receiving." 
(*not his real name)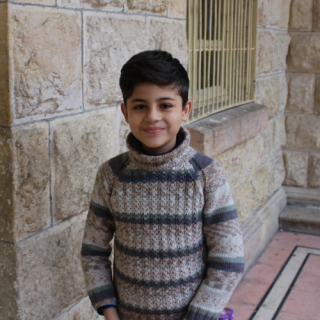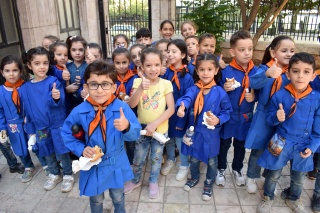 IT COSTS JUST £15.90 TO FEED A CHILD FOR A WHOLE SCHOOL YEAR.