Stop Child Hunger

Hunger Has No Borders – Hope Has No Limits
Children are bearing the brunt of the immense suffering caused by hunger. It is estimated that more than 35 million children are suffering from acute food insecurity in our world today.
And yet there is hope – you can take action by joining a movement that's ensuring more than 2.4 million children receive a nutritious meal every school day in their place of education.
That movement is Mary's Meals and we urgently need your support.
You can help to stop child hunger. Your donation will provide much needed meals to children suffering the effects of extreme poverty around the world.
What is happening in East Africa?
Mary's Meals is serving life-changing school meals to some of the world's most vulnerable children. In countries like Ethiopia, South Sudan and Kenya millions of children are experiencing acute levels of hunger as communities tackle a terrible combination of factors, including soaring costs, climate change, conflict, and the aftermath of the Covid-19 pandemic.
What is Mary's Meals doing?
Mary's Meals currently feeds more than 250,000 children across East Africa every school day. Working alongside local communities our meals are served to children in countries including Ethiopia, Kenya and South Sudan where more and more people are being pushed further into hunger and poverty. Our meals attract children into the classroom where, with full stomachs, they can learn their way to a brighter future.
With your support, we can ensure that our nutritious meals reach the communities most in need, so that their children can become the adults who lift their communities out of poverty.
What can I do?
Please give what you can and help us keep our promise to the children we feed around the world in 18 countries, just like those living in Ethiopia, Kenya and South Sudan today.
It costs just £19.15 to feed a child for a whole school year.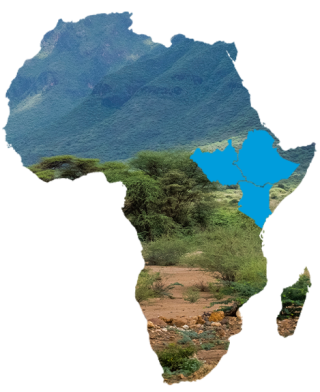 Mary's Meals in East Africa