World Porridge Day

Celebrate World Porridge Day and raise funds to feed hungry children with Mary's Meals.
What is World Porridge Day?
In Malawi, Zambia and Zimbabwe, Mary's Meals serves children steaming mugs of vitamin-enriched porridge, helping them to learn and grow. That's why we celebrate World Porridge Day on 10 October every year – we know that porridge has the power to change lives.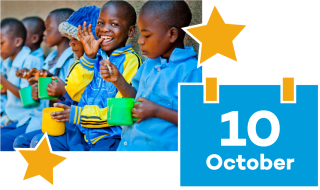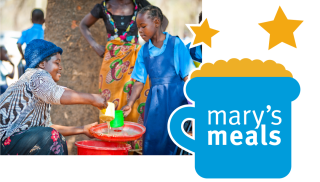 Why celebrate World Porridge Day?
Celebrating World Porridge Day allows you to support Mary's Meals with fun activities you can do with your colleagues, friends and family.
Mary's Meals provides one good meal every school day for hungry children living in 18 of the world's poorest countries. The promise of these meals attracts children to the classroom, where they can gain an education and grow up well-nourished and well-educated to become the men and women who will lift their communities out of poverty.
The Mary's Meals Porridge Party Pack
If you want to get involved in World Porridge Day, download our Porridge Party Pack, full of useful information, fundraising tips and some totally 'oaty' recipe ideas.
Fill out the form and download the pack!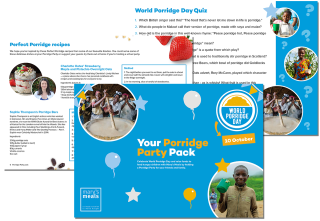 Want to fundraise for World Porridge Day?
Want to pay in your donations?