Leave a gift in your will
A powerful legacy to leave for future generations
By leaving a gift to Mary's Meals, no matter how small, you can feed desperately hungry children living in some of the world's poorest countries and bring hope to future generations.
You can be assured that we will cherish any gift entrusted to us. We're committed to keeping our running costs low to maximise the good we can do – 93% of all donations to Mary's Meals are spent directly on charitable activities.
We are already reaching more than two million children every school day with life-changing school meals. We believe that, through the generosity and kindness of people who leave gifts in their wills, we can end world hunger.
Our will writing partner
We have partnered with Farewill, the largest will writer in the UK, to offer a free will writing service to our supporters. 
You can use this free service whether or not you include Mary's Meals in your will – but please know that a gift of any size will make a huge difference to the hungry children we feed.
Leaving a gift in your will is a very personal and important decision. To access your free pack with more information about how to leave a gift to Mary's Meals in your will and to discuss with a dedicated member of staff fill out this from or please call 0800 698 1212. Read our FAQ to find out more.
If you have already chosen to leave a gift in your will to Mary's Meals, we would love to be able to thank you and include you in our exclusive supporter communications and event invitations, giving you a unique insight into our life-changing work.
Please get in touch if you wish to let us know that you plan to leave a gift to Mary's Meals. We will never ask for information regarding the details of your will.
Andrew's gift
Big-hearted Andrew Welsh left Mary's Meals a gift in his will having followed our work during his life. Thanks to his incredibly generosity, hungry children living in some of the world's poorest countries are receiving a nutritious meal at school.
His niece Mhairi says: "Uncle Andy always had warmth and compassion for those less fortunate. Knowing these children have been given the simple things in life which we all take for granted – a warm meal and education – is simply wonderful."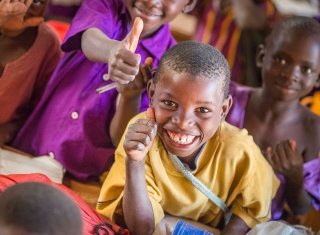 It costs just
£19.15
to feed a child for a whole school year!