A message from Matt Barlow, our new Executive Director
Matt shares his journey to Mary's Meals
Published on
It's hard to put into words what it is about something that grabs you right in the very core of your being. When you go on a really quick journey from either not knowing, not caring, or maybe both, to being fully 'in', fully inspired and fully on board. 
I first stumbled across the amazing work of Mary's Meals when listening to a Christian devotional app called Lectio 365. The main guy behind it, Pete Greig, was doing a pilgrimage from Iona to Lindisfarne, recording devotionals each day, focusing in on Celtic Christianity. And one day he spoke about the amazing work of Mary's Meals, which had gone from nothing to feeding more than 2.4 million children every school day in just 20 years.  
I sat there with my jaw on the floor, stunned – 'how had I not heard of this before?'. So, when a month later whilst on holiday, sat outside our family tent nestled between Cornish sand dunes – I saw the job of Executive Director and it grabbed me again and this time didn't let me go. The recruitment pack bowled me over, the website drew me in, and within 24 hours I had downloaded Mary's Meals' Founder, Magnus MacFarlane-Barrow's book, The Shed That Fed A Million Children onto my phone and was gripped. 
I was really quite moved by seeing how my 21 years at Christians Against Poverty, with 14 as CEO and latterly as International CEO, just fit perfectly with what Mary's Meals was looking for.  
This role felt like a perfect fit, and as I went through the interview process, I wanted this job so much that I felt nervous for the first time that I can remember and I knew any other job was going to pale in comparison. Yet I also couldn't quite believe it to be true, that I might have the privilege of giving the next chapter of my life, to impact so many children. Do you ever stop and pinch yourself – 2.4 million children? Every single school day? It's incredible.  
The final thing that truly grabbed me was when I read Magnus' book, Give. I burn with a passion for a more just world, and if those of us who have more than our share, could just give a little more of what we have, not only could we solve so many of the world's problems – especially hunger – but we could be happier too.   
As Magnus so brilliantly articulated – giving is an act of love, when someone gives, they increase in love. Putting someone else's needs first is the first step to a truly fulfilling life and at Mary's Meals, we get the chance to invite people like you to join us to make a better, more beautiful world. 
Here's to continuing, together, to keep our promise to those little ones already receiving our nutritious meals as we press on, with your support, to reach the next hungry child waiting.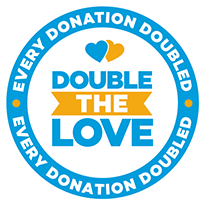 It costs just £19.15 to feed a child for a whole year.  
This winter, the same donation will feed
two children

!