Blairgowrie volunteer group raises £100,000
Thank you to our wonderful volunteers in Blairgowrie
Published on
Our Blairgowrie volunteer group is celebrating raising a whopping £100,000 to help feed some of the world's poorest children! 
The 50-strong group of volunteers started fundraising in 2009 by selling crafts and gifts and holding annual coffee mornings in the Scottish town. The group is led by 80-year-old Margaret Young, who has supported our mission since the days of Scottish International Relief. 
Margaret says: "It is quite unbelievable that without too much effort we've been able to raise so much money.  
"I think children being at the source of Mary's Meals really does touch people's hearts. They really are more than willing to give their support to the cause."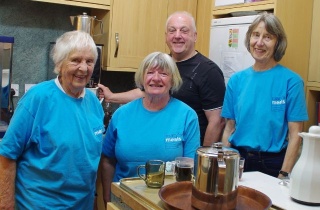 Even during the Covid-19 pandemic lockdowns, the dedicated volunteers continued to fundraise for the children who rely on Mary's Meals. They created tea boxes full of tasty homemade treats for people to enjoy while at home.
The group has also created a Facebook group called Mary's Meals Made For You to sell its crafts and gifts.  
Daniel Adams, executive director of Mary's Meals, says: "We are so thankful to Margaret, the Blairgowrie volunteers and the local community for helping to keep our promise to the hungry children who rely on Mary's Meals. It's an incredible achievement to have raised £100,000! 
"Volunteers are the heartbeat of Mary's Meals – our work is only possible because of those, like the Blairgowrie group, who give selflessly of their time, talents and kindness."
If you feel inspired to volunteer with Mary's Meals, you can find more information here.  
Photo credit: David Phillips
It costs just £15.90 to feed a child for a whole school year.