Christmas in Malawi's first refugee camp
Church, modest meals, and hope for better days mark the season in Malawi's cramped Dzaleka camp.
Published on
"Christmas reminds us to be kind, honest, obedient, sharing with the needy, and doing voluntary work."
Born and raised in Dzaleka, an overcrowded refugee camp in Malawi, Gloria is one in over 6,000 children receiving Mary's Meals in the camp's school.
With the UN reporting that only one in three refugee children will reach high school, it is vitally important that children like Gloria are given all the help they need to try and reach their full potential.
"My parents are originally from Democratic Republic of Congo (DRC). On Christmas Day, we go to church together with our families. We spend Christmas playing with friends, eating nice food, shooting fireworks, singing and dancing."

Gloria's dad, Felie, is an interpreter fluent in Chichewa, English, Swahili and French, among others. He arrived as a refugee in Malawi at age 16. He says:
"In my home country, during Christmas, we used to have nice food. I could wear new and smart clothes. But here at the camp, the choice of food, clothes and assorted items is limited.
"I wish I could spend this Christmas in a special way, but we sadly don't get that opportunity here at the camp. Life has also been tough due to Covid-19.
"Nevertheless, I am hopeful I will do something to make the children happy during Christmas.
"As a parent, my plans are to work extra hard for my children. I will make sure that I put food on the table.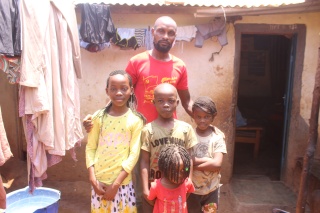 "My aim is to go for the resettlement programme in America by February 2022, as I want my family and children to have a brighter future, to go to nice schools and further their studies."
Mother of three, Esther, managed to escape from the DRC seven years ago after her husband was killed. She is a teacher at the camp school.
"I miss my family in DRC so much.
"During Christmas, we would celebrate in style. We used to have a family gathering; my late husband would invite our aunties, uncles, grannies, and we could have a feast together.
"I remember that at church they could decorate colourfully. We prepared Christmas songs, plays, and shared life testimonies. It felt so good, I could feel the excitement in my stomach.
"This year I plan to spend my Christmas at church. After, I will prepare nice food and clothes for them. My children and I plan to celebrate the day by sharing gifts with my family and friends.
"Life in the camp is hard. It is not for everyone.
"Mostly people eat once around 4pm then sleep and the next day children go to school on an empty stomach. It is porridge that helps most learners; including my children to go to school and learn. Once they eat, they get energy to stand up, without porridge; my children could have been weak.
"As a mother, my heart is at peace every school day because I know that the children will eat breakfast at school because of Mary's Meals."
It costs just £15.90 to feed a child for a whole school year.