Community distribution in Malawi
Since the start of the Covid-19 pandemic last year Mary's Meals had to adapt our school feeding programmes to continue to keep our promise to feed hungry children in countries such as Malawi.
Published on
Our staff worked with governments, community leaders and trusted partners in the countries where we deliver feeding programmes to overcome school closures and other restrictions and find new ways of reaching hungry children until it is safe for them to return to the classroom.
While schools in Malawi are open and classes are being staggered to allow for social distancing, for the time being we continue to provide take-home rations in line with government guidance. 
Through these community distributions of food, many children we serve have continued to enjoy daily meals while they learn at home. As a result, 95% of households surveyed in Malawi reported a reduction in hunger in their homes while they had take-home rations from Mary's Meals.
Mother-of-four Dalitso Francis told us about the the effects of the pandemic on her family and the positive impact of take-home rations. 
Oliver Kuwani is a grandmother of five from Mulanje in Malawi. She told us: "The take-home rations we have been receiving from Mary's Meals have helped us a lot because our children are no longer grumbling about hunger. They go to school happy and cheerful after eating the porridge at home. In the morning, I prepare porridge for my grandchildren and they go to school full without feeling hungry.
"The take-home rations have been timely because the previous months we were hit by hunger as we had not yet harvested our crops and with the porridge we were not troubled as we knew that the children would have something to eat before they go to school."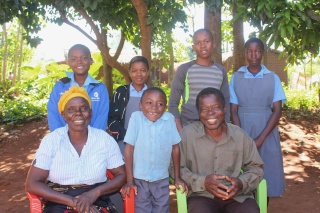 Like 93% of households asked, mother-of-four Yasinta Malenga from Machinga said the school meal was an important factor in her decision to send her children back to school once they are able to reopen. She told us: "If the school feeding programme is to come back I will welcome the development. Having food preparation right at the school is advantageous because it enables children to be punctual. It also helps my children to perform better in class after having their meals."
She said adapting the school feeding programme has been a vital source of nutrition for families: "Following the Covid-19 pandemic, Mary's Meals distributed porridge to us parents so that we may prepare the meals for the children while at home. This initiative benefited us a lot. It was the main source of breakfast to my children. I made sure that I prepare the phala (porridge) early in the morning."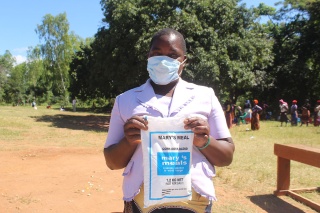 Mary's Meals began feeding children in Malawi in 2002. We are currently feeding more than 1,044,000 children across Malawi in their place of education, mostly through direct delivery and, in one area, by working with a local partner.
It costs just £15.90 to feed a child for a whole school year.