Grandmother's baking raises £80,000 for Mary's Meals
Bernadette Barr, 65, has baked more than 5,600 portions of cakes for her popular afternoon teas
Published on
Volunteer Bernadette Barr has raised more than £80,000 for our work by baking and selling a mountain of delicious treats! 
Over the past nine years, Bernadette, 65, has baked hundreds of cakes and quiches, including whipped cream puffs, ginger cakes, old-school cakes and rocky road, all from her kitchen in Port Glasgow in Scotland.  
She sells these goodies at afternoon teas held in aid of Mary's Meals – and the events, named 'Baked With Love', have become a sensation in her local area.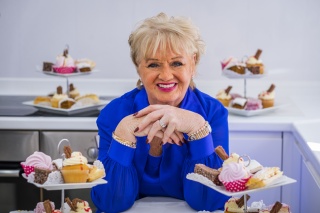 Bernadette starting baking for Mary's Meals after taking her mum, Rachel Stewart, to an event that featured Child 31, a film about our story. It was here that her mum whispered, "If only I was younger."  
Bernadette says: "My mum had spent many years fundraising to help children living in the world's poorest countries and I wanted to find a way I could continue in her footsteps. I decided to start baking – and then sell the cakes to raise money for Mary's Meals." 
Bernadette was determined to carry on her mum's good work and so decided to start baking, with all profits going towards supporting our work. She held her first tea in 2015 and has been hosting them twice a year since – in this time baking more than 5,600 portions of cake for her delighted guests! 
The money she raises is used to serve 307 children at Tombay Primary School in Liberia, the school that Bernadette sponsors in her mother's memory. 
Bernadette adds: "I am proud to be continuing my mum's desire to help hungry children around the world – as well as just about anyone who came into our family home!" 
It costs just £15.90 to feed a child for a whole school year.