"In the event of catastrophe it is the poor who suffer most."
As schools in India reopen following a strict lockdown, Father Joson writes about the difference Mary's Meals makes to hungry children.
Published on
Amar, eight, lives with his parents and five siblings in a deprived area on the outskirts of Delhi here in India. His family struggle to have one square meal a day.  
Our capital city is teeming with people – with a population of more than 13 million and still growing due to migration from rural villages to the city for work.   
When a national lockdown was imposed in India during the first wave of the Covid-19 pandemic, families were forced to return to their native states, many travelling hundreds of miles on foot.   
Amar's family returned to Bihar, one of India's most deprived states, more than 600 miles from Delhi. His mother says: "When we went back to our village, there was nothing to eat. It was a worse situation than in the Delhi slums."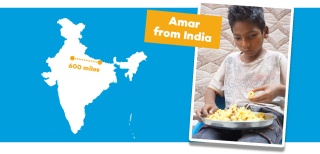 In recent months, there has been a reverse migration with even greater force and desperation. Amar's family was among those making the long journey back to Delhi – where the rising price of essential commodities is severely impacting people who are already in some of the most difficult circumstances.   
"At least my child can have a hot cooked meal, thanks to the slum school which serves Mary's Meals in Sagam Vihar," Amar's father adds with a grateful heart.  
It is sad that in the event of a catastrophe it is the poor who suffer most; be it Covid or conflict. Innocent children are among those bearing the ripple effects with the heavy price of hunger and poverty.   
But thanks to Mary's Meals, the children receive a nutritious meal to satiate their hunger.  
Children like Amar, who are receiving Mary's Meals, can feel hopeful that can they look forward to a nutritious meal in the classroom.  
When I think of them, I am reminded of the spirit of Job in the Old Testament who, even in the most difficult circumstances, was filled with hope and trust in God's goodness (Job 1:21).
God bless,  
Father Joson  
Director of BREAD Noida, Mary's Meals' trusted partner in India 
Pray with us:
Let us pray for all the children that Mary's Meals serves, that against all the odds in their young lives they will learn their way to a future free from poverty.


 

We pray at this time for all people facing conflict – including those in Ethiopia and South Sudan, where we serve our school meals – as fighting and unrest force so many to flee their homes. 


 

Together, let's pray for the work of Mary's Meals; that it will continue to reach more desperately hungry children, who will soon wake each day knowing that a meal awaits them at school.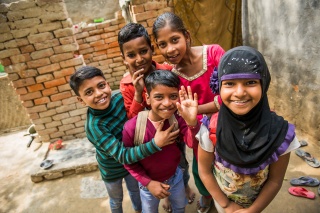 Would you like to receive our monthly prayer email?