More than just a meal
Alex Keay, director of programme partners and affiliates, reflects on the importance of Mary's Meals for malnourished children in Kenya
Published on
Thanks to our supporters, we are helping to transform the lives of millions of little ones living in some of the world's poorest communities with a daily school meal.  
I recently met some pre-school children in Kenya who eat Mary's Meals every school day.   
Driving along the winding, sandy and stony tracks of northwest Turkana, an extremely remote part of one of Kenya's most vulnerable regions, you start to wonder if anyone can be living here at all. There is little sign of life other than a few clusters of scrub and occasional groups of goats and camels nibbling on shrivelled leaves.  
My colleagues and I are here to visit Akalaliot pre-school, where around 300 children receive Mary's Meals every school day. Despite the initial impressions of the landscape here, the school is a hive of activity. Pre-schools like this are a vital first step for children to gain an education that can enable them to support themselves, their families and their communities in the future.  
As I enter the playground, I pause to take in my surroundings. "Where has everyone come from?" we ask. The locals tell us that the pre-school is situated between a few small villages, roughly two to three miles away from each. We're told that the children come for the meal of maize and beans.  
In the mornings they look out for smoke coming from the kitchen. When they see the smoke, they know they will have a nutritious meal to support their day's learning.  
Nurseries like Akalaliot provide a daily meal for children who might otherwise go hungry. Ng'asike, who is four years old,  is daring to dream of his future.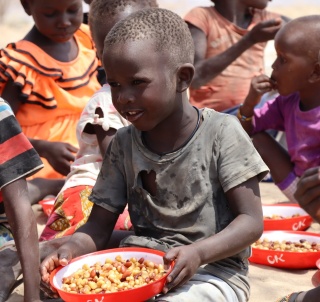 The food I get at school makes me full and I don't feel hungry in my stomach. I do not get any other food at home. When I grow up, I want to be big and become a teacher and lead other children so that they behave well.
Sadly, malnutrition and hunger are all too common in these communities. But our programme is helping more children to attend classes, and to do so consistently. They're even building new classrooms to keep up with the increased number of pupils since Mary's Meals began working here.  
As the children clear their plates and bounce to their feet with renewed energy, it's amazing to see the difference our meals are making.  
A heartfelt thank you for all that you do to support our work. 
It costs just £19.15 to feed a child for an entire school year!