Supporter Engagement Manager - London
Supporter Engagement Manager - London
Mary's Meals is a global movement supported by people from all walks of life and we are focused on one goal – that every child receives a nutritious daily meal in a place of education. We offer more than just a career, we offer the opportunity to support our global movement in a dynamic and inclusive environment with a real focus on personal development.
Reporting to the head of grassroots engagement, the supporter engagement manager will play a key role in strategic development and operational management of grassroots fundraising activities and is responsible for the line management of two supporter engagement officers.
Principle duties include:
Lead, manage and motivate a team of supporter engagement officers to grow and nurture the Mary's Meals volunteer network in London and surrounding areas.

Develop and deliver a supporter engagement strategy with the head of grassroots engagement that optimises current activities and identifies key growth opportunities in regions across the UK.

Coordinate grassroots awareness and fundraising across key community groups and organisations nationally including churches, schools, universities, groups and associations.

Set income and expenditure budgets for the supporter engagement team with the head of grassroots engagement.

Develop appropriate processes and procedures to maintain and increase our level of supporter and volunteer engagement.

Contribute highly creative ideas for new fundraising campaigns or initiatives and play a significant role in formulating and implementing approved campaigns.

Act as an ambassador of Mary's Meals at public engagements and supporter events and, where necessary, delivering speeches or presentations to a wide range of audiences.
Please see the recruitment pack for further information.
To apply, please send your CV and covering letter to: jobs@marysmeals.org 
Your covering letter should make a compelling case for why you feel motivated to apply for this role within Mary's Meals UK, as well as giving a concise overview of your most relevant skills and experience.
Applications will be reviewed on a continuous basis.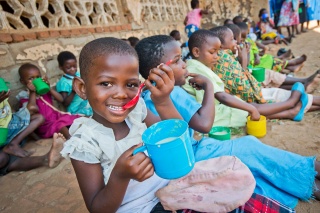 Learn more about Mary's Meals.
Read our story and find out how we came to be feeding more than two million children every school day.