A different level of hunger in Tigray, Ethiopia
'Starvation and hunger is worse than before' in Ethiopia's war-torn region of Tigray
Published on
"If you don't help people from starving, from dying now, when are you going to do it? Tomorrow is too late." This stark question was posed by our dear friend Sister Medhin who, along with other members of Mary's Meals' trusted partner organisation, Daughters of Charity, has seen her beloved Ethiopia torn apart by brutal civil war.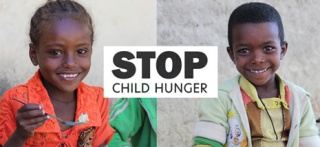 With long periods of media and communications blackout, stories from Ethiopia in recent years have been few and the atrocities Sister Medhin has borne witness to have often been too horrifying for us to share. But perhaps what is most shocking at the moment is when she tells us that despite last year's peace agreement: "starvation and hunger is worse than before".
Nobody in Tigray has escaped the horror of this war; regardless of income, property or status before the conflict. Sister Medhin says everyone has been reduced to begging for food, waiting to be fed: "Imagine how painful and difficult this would be for any one of us if we tried to put ourselves in their place. It is degrading, dehumanising."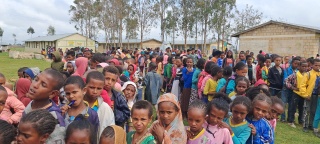 The desperate levels of hunger in Tigray are being compounded from all sides. People are already starving from lack of food during the war. In the Tigrayan capital, Mekelle, food and aid could barely make it in or out, and the conflict meant any chance of planting, fertilising or harvesting crops was lost. Years of reduced rainfall has also presented a huge challenge to agriculture.
"Officially speaking, the war has stopped, people are still dying of hunger, people are still traumatised, and we witness it every day. So many children, mothers, people with chronic illnesses ... the entire population of Tigray is still suffering.
"You know they say that the empty stomach does not have ears to listen. It is very difficult even to talk to these children. When we go without food, even for a day, you know how irritable we can be, we don't want to talk to anyone ... it affects our mood, our behaviour. The level of hunger that I speak about is not the usual hunger people talk about. This is beyond all that. [For these children] I'm not talking about one day's hunger; I'm talking about so many days without food that children would have to cope with.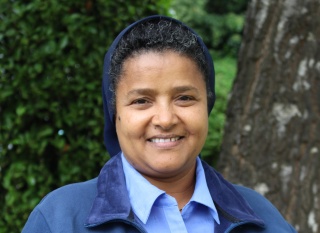 "Just even looking at the children – how thin they are, very thin – we have so many children who are malnourished because they don't have enough food. More than anything they need to be fed because they are starving. They need medical care, clothing; their basic needs need to be met. Generally speaking, [the situation people are in] is below the level of humanity, and that is how I would express it.
"We are talking about children who were out of school for years; it began with Covid-19 and was followed by war. So, any human being should be thinking of his or her own child or children. We have to generously respond in order to make life meaningful, hopeful, and fruitful and at least make life something that you want to live."
It's hard not to feel hopeless in the face of such devastating descriptions, yet Sister Medhin recounts stories of hope that people would cling to in those times of great darkness and explains how Daughters of Charity's continued presence in the region gave great comfort to those they were able to help. Supported by Mary's Meals, Daughters of Charity were the first organisation to distribute food in Tigray's capital Mekelle, where 30,000 internally displaced people in 27 camps were fed daily.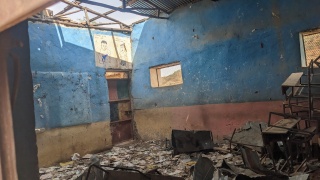 Sister Medhin maintains that thousands of lives were saved through this work, lives like Mulu's, a displaced Tigrayan child who fled his village after fighting broke out. Separated from his family, Mulu was left with no choice but to follow a group of villagers on the treacherous journey to Mekelle, alone. 
While life in the temporary camp without his family was incredibly difficult, Mulu was glad to receive food every day alongside new friends and keep his strength up as he hoped for a more peaceful future.
Sister Medhin told us: "Every time I think of the dark moments, especially in the last two years, I think of Mary's Meals. I never felt alone. I felt that we would go through these dark moments, and there will be a day for a bright future, there will be a day when things will be maybe ok, or even normal.
"Imagine, to be able to save the lives of more than 86,000 people in the last three years, is just so remarkable, it is beyond words. People who were dying because of disease, because of lack of food. I think it is the best gift that you can give to a fellow human being, especially a human being that needs your love and assistance."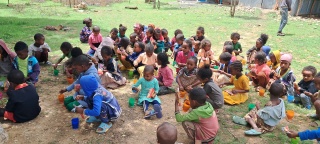 As many thousands of people returned to their villages to begin rebuilding their lives, Mary's Meals supported Daughters of Charity to carry out community food distributions, providing essential staples to those families in the greatest need.
Basic school feeding for around 10,000 children in 14 schools has also now resumed and over the coming months, the programme and menu will be expanded as cooking facilities that were destroyed or looted in the fighting are replaced. School meals are vital for families as they begin a long road to recovery, and the promise of a daily meal in a place of education will help to bring stability for children who have endured unimaginable trauma and hunger.
"I want to thank people for their love, if your love is sincere, it crosses borders, it will go beyond any kind of obstacle and this is what supporters of Mary's Meals have done. I don't think what has happened to us in Tigray ever happened to any human beings anywhere. So, it is not the usual type of support that we are looking for. It really needs a scaling-up of fundraising. It requires going the extra mile, maybe depriving ourselves so that we can give more than what we usually are giving.
"I just want to ask the general public, [across] the globe, to contribute to Mary's Meals because this will save lives, because there is nothing more anyone can do."
Child hunger is a crisis we can solve together. Help to make a meaningful impact, one meal at a time: please donate today.