Amidst Haiti's dangerous unrest, we continue to feed hungry children
We are working with local partners to help those in need
Published on
We are encouraging people in the UK to support our work in providing school meals to hungry children in Haiti. As the country struggles with prolonged civil unrest and gang violence, recent Integrated Food Security Phase Classification (IPC) Acute Food Insecurity analysis shows that more than 4.89 million people in Haiti – 49% of the country's population – are currently in crisis or emergency from hunger. This classification specifies that humanitarian food assistance is urgently needed. 
Haiti is the poorest country in the Americas and has been plagued by an onslaught of natural disasters, violence and food insecurity for years. According to the UN, from 1 January to 15 August, 2023, more than 2,400 people have been killed in gang violence, and more than 950 people kidnapped, including the recent kidnapping of US aid workers. The UN estimates that 80% of the country's capital, Port-Au-Prince, is controlled by gangs. 
Despite this turbulence, our partners – Summits Education, Caritas Hinche, and Bureau de Nutrition et Développement (BND) have managed to continue delivering school feeding programmes throughout 2023, ensuring that more than 200,000 young learners can rely on receiving a daily meal at school.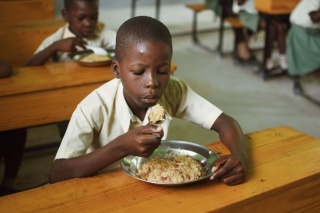 Cassandre Regnier, programme director at Summits Education, says: "The programme is ongoing because of our ability to mitigate risk. We adapt to the constantly evolving situation. Firstly, we know that if we can just get the ingredients for the meals to the schools, there are immediately fewer constraints in the daily delivery and monitoring, since the teachers and school monitors live locally and can take it from there.  
"The local staff we have in each region know of upcoming protests or events that might cause disruptions, and they can modify activities and interventions as needed." 
In this type of environment, where political and environmental stability can change rapidly from one day to the next, the dedication of the volunteers is even more apparent.  
Regnier says: "Volunteers come daily to prepare the meals and donate their time to the school feeding programme. It is rare that volunteers don't show up, unless there is an emergency. They know the children will not eat if they do not volunteer, so it's crucial to the parents. We are so appreciative of the contribution made by volunteers and without them our school feeding programme simply would not function."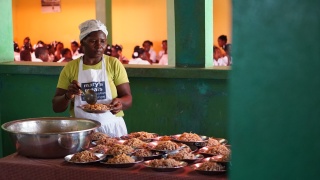 Nine-year-old Issac is one student who has really benefited from the work of Mary's Meals and its partners in providing meals in school. Before joining La Ruche School, which is run by Summits Education, Isaac would often go hungry and showed signs of malnutrition, as his parents – who earn less than $2 per day – were unable to provide enough food to feed him. Today though, Isaac is blossoming at school and says 'learning and lunches' are the two things he loves most about attending each day. The plates of rice and beans served to Isaac and his classmates, together with the school's medical intervention, give him the strength to walk to school each day and concentrate in class. 
Karen Gray, director of communications at Mary's Meals says: "It's heart-breaking to hear updates of the chaotic unrest happening in Haiti. After the devastation caused by the earthquake in 2021, it's saddening that the people of Haiti now have to contend with this current crisis. 
"The shining light in these difficult days is the incredible work our programme partners are doing to ensure that children can continue to rely on their daily serving of Mary's Meals. Our partners' courage, knowledge and understanding of the local context is the reason that we are able to continue working in such a challenge environment. 
"People across the UK have always given so generously to our mission and their kindness makes a huge difference. It costs just £19.15 to feed a child with Mary's Meals for a full school year, so no gift is too small."  
It costs just £19.15 to feed a child for an entire school year!