Haiti
Mary's Meals feeds 206,698 children every school day in Haiti!
Published on
Haiti is located in North America, on the island of Hispaniola. It shares the island with the Dominican Republic and is 27,750 square kilometres in size, meaning it is the third largest country in the Caribbean by area. 
Haiti is the most populous country in the Caribbean, with around 11.4 million inhabitants. It is also one of the poorest nations on earth. It is the only low-income country in the Americas and ranks third on the 2021 Climate Risk Index for countries most affected by extreme weather events. Malnutrition is widespread, owing to chronic food insecurity, and a persistent onslaught of natural disasters has greatly impacted people's ability to sustain a livelihood. 
It is estimated that 4.4 million people are at risk of hunger and around 49% of the general population is undernourished. 21.9% of children under five have stunted growth. More than half a million children in Haiti are out of school. 
A magnitude 7.0 earthquake struck Haiti on the afternoon of 12 January 2010, causing the country to face one of the greatest humanitarian crises in history. The earthquake was devastating, killing around 250,000 people and injuring 300,000 more. It caused the displacement of roughly five million people, and some 4,000 schools were damaged or destroyed. 
More than a decade later and Haiti is still struggling to recover from the disaster. Political instability, food shortages, unemployment, tropical storms and hurricanes have kept most Haitians locked in a cycle of poverty for generations.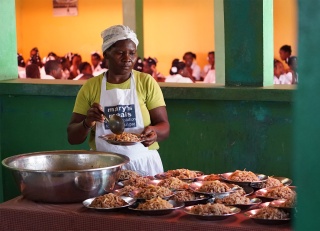 Mary's Meals in Haiti
Mary's Meals has been serving school meals in Haiti since 2006. We work with three local partners – Caritas Hinche, Summits Education and Bureau de Nutrition et Développement.  
We serve our meals in the remote and under-developed Central Plateau Region, as well as in high-risk urban slum areas in Gonaïves and in the capital, Port-au-Prince.  
We are currently reaching 206,698 children in 662 schools in Haiti.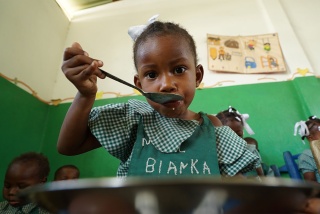 Latest News
When did we start working in Haiti?

Mary's Meals has been providing meals in Haiti since 2006.

How many children do we feed in Haiti?

We are currently feeding 206,698 in 662 schools.

What meal do we provide?

Typical school meal is maize and beans, or rice and beans with fish.

Where are we based/where do we operate?

We serve meals to children in the remote and under-developed Central Plateau region, as well as in high-risk urban areas in and around the capital, Port-au-Prince.