God is bigger than our circumstances
Hannah Moore, our supporter engagement officer, reflects on a meeting with our founder, Magnus MacFarlane-Barrow
Published on
In March, I had the privilege of visiting The Shed in Dalmally, located in the Scottish Highlands, where the work of Mary's Meals started – and meeting our founder, Magnus MacFarlane-Barrow. 
Of all the inspiring and encouraging words shared that afternoon, there is one thing I know I will return to again and again.   
Mary's Meals began in 2002, feeding just 200 children in Malawi. It's thanks to the kindness of our supporters that, just over 20 years later, we are feeding more than 2.4 million children in 18 countries around the world. We can all be proud of this incredible achievement. 
Yet, in that shed where the Mary's Meals story began, Magnus shared his view that we are at the beginning of our journey; maybe not even at the end of chapter one. That's a staggering thought, but with 67 million children across the world still not attending school, it's easy to see that there is still a long way to go.
I don't know how you feel when you read that? I feel excited by the invitation to keep striving to reach the next hungry child waiting for Mary's Meals. But I also feel overwhelmed by the immense amount of work there is yet to do. 
When I'm feeling burdened with what's ahead, I find comfort in Psalm 121.   
"I lift up my eyes to the mountains – where does my help come from? My help comes from the Lord, the Maker of heaven and earth."
Something happens when we lift our gaze away from our present situation and onto the God of all creation. We have a new perspective in which we can see a situation in the light of a God who is bigger than our circumstances. This fills me with hope because I am reminded of the goodness and the faithfulness of a loving God who made the heavens and the earth. 
This May, we are inviting you to join us in prayer for the work of Mary's Meals, as part of our Pray In May campaign. What an opportunity for us to collectively lift our eyes to the hills and acknowledge the goodness and faithfulness of God, as we ask for His continued blessing for Mary's Meals and that children throughout this world will see their lives transformed through the promise of a daily meal.
Hannah Moore,
Supporter Engagement Officer
Pray With Us:
We pray, with thanksgiving, for every little act of love in the last 20 years that has enabled more than 2.4 million children to receive a daily school meal.


 

We pray for every member of the Mary's Meals family to continue, with hope in our hearts, to strive to see the next hungry child fed.


 

We pray for those 67 million children who won't be attending school today because of hunger and poverty.
It costs just £19.15 to feed a child with Mary's Meals for a school year.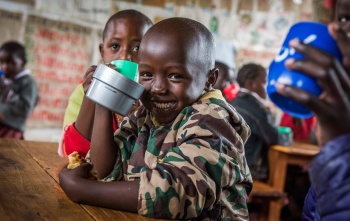 A father's unconditional love
Steve White, Supporter Engagement Officer for London and the South East of England, reflects on becoming a father, and how important it is for children to thrive and be loved.
Read more

about A father's unconditional love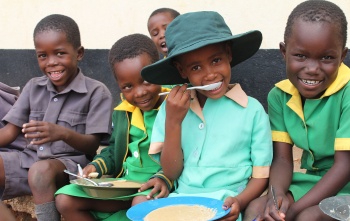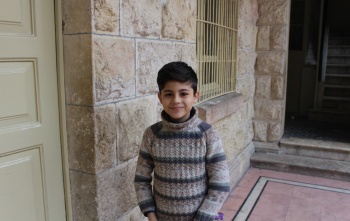 The gift of Christ's peace
This month, Caoimhe McCann, supporter engagement officer for Northern Ireland, reflects on the joy of being able to share Christ's peace with others.
Read more

about The gift of Christ's peace