Mary's Meals is back on the menu in India
After a challenging two years, children are overjoyed to be learning once again
Published on
While schools in India were closed due to the Covid-19 pandemic, our partners, BREAD Noida, worked tirelessly to deliver take-home rations for children who rely on Mary's Meals. 
"Having food from Mary's Meals is the most important part of my happiness." 
These are the words of 12-year-old Uday, who is one of thousands of youngsters in India delighted to be enjoying Mary's Meals once again in school after two years of disruption and closures caused by Covid-19.
Whilst children all over the world were learning remotely via online classes, Uday found it challenging to continue his education because his family does not have a smartphone or the means to access the internet. 
The re-opening of school has been a lifeline for Uday.  
He says: "There was no one at my home to teach me. Whatever I had learned, I had forgotten. I was missing our teacher, the blackboard and my friends and I was not feeling good. I am very happy now to be back in school. 
"Mary's Meals is like a blessing for our family. I am hoping it will help students like me who are interested in studying. With these meals, I can understand how much Mary's Meals do love and care for us."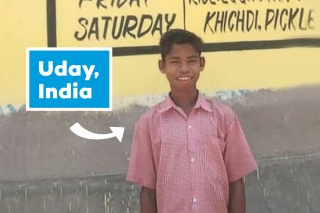 We're delighted that Mary's Meals is firmly back on the menu in schools in India after two years of severe restrictions and closures. 
Children in the schools and informal education centres that are part of our programme, including Uday, have been celebrating as the familiar sights and smells of Mary's Meals are once again part of their daily routine.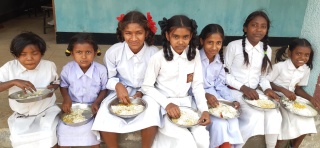 During the height of the pandemic, and even when teaching resumed in some areas, restrictions meant we were unable to provide meals at school to some of the country's most vulnerable children. Instead, our partners, delivered a programme of take-home rations for children who might otherwise go without anything to eat.
With restrictions now lifted, our partners are back in local communities training volunteers and preparing kitchens to serve delicious meals of curry, dahl and rice. As we are reaching schools across a vast area, this will continue until in-school feeding resumes and we will be feeding 64,123 children in 156 places of education.
It costs just £15.90 to feed a child for a whole school year.