The children of South Sudan need our help
Magnus MacFarlane-Barrow highlights that the children of South Sudan aren't giving up. And nor are we.
Published on
I wouldn't blame the children of South Sudan if they just gave up. One third of them are suffering chronic malnutrition.
Half of them are missing school. Millions are displaced. And none of them have ever known anything but war. In fact, even 45-year-old Moses – who works for Diocese of Rumbek, one of our partners in South Sudan – tells us 'we have never seen something called peace in the whole of our life.'
But Moses has at least seen something called hope. Many times, since he began organising the distribution of our school meals in South Sudan, he has witnessed the hope our work brings to some of the poorest children on earth.
Last year, he travelled 280km from Rumbek, where we have been working since 2008, deep into the country's remote forest of Wau. Moses was shocked by what he saw there, especially by how malnourished and neglected the children were.
He had travelled there to meet our new partner – the aptly named Mary's Help Association – who, inspired by the same mother who inspired Mary's Meals, is working with some of the most desperate, vulnerable children anywhere.
Two of the nuns running the project in Wau had previously been involved with a Mary's Meals programme in India and for that reason had pleaded for us to begin serving meals alongside them in the schools they were setting up there. Yes, indeed, love reaches everywhere and at times makes the world seem small. Despite the suffering he saw, Moses describes his visit to Wau as the best day of his life.
"Everybody was just calling 'Moses, come here, we need to sing for you!' They say they had to sing for me because I brought life to them. I said, 'it's not me but it's Mary's Meals and the Sisters'. It's a fantastic thing and we thank Mary's Meals, for reaching out to those who are not reachable."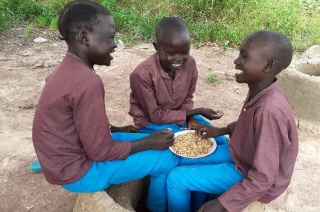 I know why that became such a joy-filled day for Moses. He has seen before with his own eyes what starts to happen to these children when you serve them Mary's Meals. In Rumbek, he has watched their appearance change and how they now stay in class – and even finish primary school.
Mary, a young recently qualified nurse working in Mapuordit, South Sudan, tells us: "School feeding changed our lives. After Mary's Meals came, the number of pupils increased. We didn't continually think of hunger. Without food we could not have continued, we would have given up." But Mary didn't give up.
The children of South Sudan aren't giving up. And nor are we. We know that no child on this earth is unreachable. The children of South Sudan may have never seen peace but, like Moses, they know what hope looks like – a colourful bowl full of maize and beans, served by a group of singing ladies from their village. And they would sing thanks to you too if they could.
South Sudan Appeal
Together, we can reach more desperately hungry children in South Sudan