Trusting in the power of God's love
Supporter engagement manager, Christina Read, reflects on putting God's love into action in challenging times to reach hungry children.
Published on
When I first discovered Mary's Meals, it struck me how precious it is to be able to feed, protect and care for my children. Mary's Meals recognises the importance of this in the countries where it works.
In Yemen, for example, conflict is affecting the country's economy and causing high levels of poverty and food insecurity. Approximately 70% of the population are in need of humanitarian assistance, including more than 11 million children. These circumstances prevent children from attending school, with many being drawn into child labour and other dangerous situations.  
Mary's Meals is now reaching more than 4,000 children in the Aden district of Yemen, which is home to a large number of internally displaced people. Putting food on the table is very challenging for families and hunger levels are high, but Mary's Meals brings hope to those children through a daily meal at school and the chance to gain an education. 
At my children's primary school, June is the month chosen to think especially about the love of God revealed in Jesus. The children are learning that there is 'room in the heart of Jesus' for everyone and they pray: 'Sacred heart of Jesus, I place all my trust in you'.  
This June, I would like to invite you to join me in renewing our trust in the power of God's love, as we strive to put this love of God into action, to keep our promise to all the children receiving Mary's Meals, and to 'make room' for more and more desperately hungry children – like the children in Yemen.  
Our nutritious meals encourage children back to the security of the classroom with the hope of a better future. One of these children is 14-year-old Mona, who hopes to be a paediatric doctor when she is older so that she can care for and help children. 
She says: "The meal is delicious. I feel really full with this and it helps my family to save money that we really need. The food enables me to better understand the lessons and do my homework."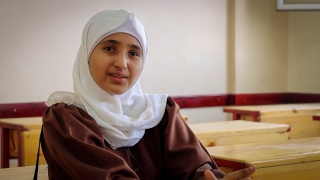 In these challenging times, thank you for making space in your heart for children like Mona. As we confidently place all our trust in the Lord, the source and the sustenance of this work, our promises and our plans. 
May the love of God surround and sustain you this June and always. 
Christina Read 
Supporter Engagement Manager
Pray with us:
We pray for all those devastated by war and food insecurity. Thank you, Lord, that we are able to reach children in the poorest and most challenging situations, including Yemen, Lebanon, Syria, Ethiopia, Myanmar and South Sudan. Help us to keep our promise to them. 
 
We pray for children in India returning to school after lengthy disruption as a result of the pandemic. 
 
We thank you, Lord, for the Mary's Meals family. Help us grow together in love, faith and trust so that your will may be done on earth.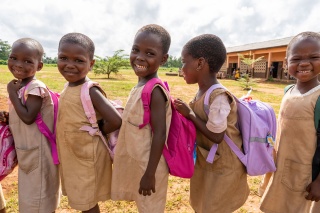 There are lots of ways you can support our mission