Yemen
Mary's Meals feeds more than 4,491 children every school day in Yemen!
Published on
Yemen is located in the southwestern corner of the Arabian Peninsula. Bordering Saudi Arabia and Oman, the country was once known for its rich supplies of spices and coffee and its capital city, Sanaa, is believed to be one of the oldest populated cities in the world.
Life in Yemen
Today, Yemen is described as one of the largest humanitarian crisis in the world. The country has been impacted by conflict since 2014, killing thousands of Yemeni people and displacing millions. Years of war have led to unimaginable suffering among children and adults and the hostile environment has significantly hampered the distribution of aid to those who need it most.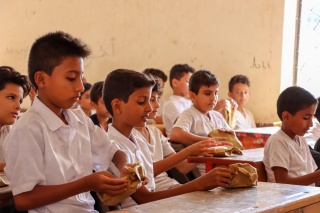 Food insecurity remains an acute problem across the country with food consumption rates deteriorating at an accelerating pace: five million people are at immediate risk of famine conditions, more than 16 million are food insecure and almost 21 million require humanitarian assistance. Food prices in Yemen continue to soar leaving few people able to afford basic food to eat. According to the UN, since January 2021, the Minimum Food Basket cost has increased by 140% in some areas.
Mary's Meals in Yemen
The ongoing war has torn many children away from education and coercion into child labour is a real threat. Working together with our partner Yemen Aid, Mary's Meals now operates in four schools in the Al Mansoora district of Aden – an area home to a large number of internally displaced people (IDPs) and other marginalised populations who all experience high levels of hunger. Our work with Yemen Aid sees more than 4,491 enrolled children receive a daily meal of a filled pitta bread sandwich with fruit and or vegetables. The serving of a nutritious lunch encourages children back into the security of the classroom. 
When did we start working in Yemen?

We have been working in Yemen since 2022.

How many children do we feed in Yemen?

We currently feed more than 4,491 children in four places of education in Yemen.

What meal do we provide?

Filled pitta bread sandwich with fruit and vegetables.

Where are we based/where do we operate?

Mary's Meals now operates in four schools in the Al Mansoora district of Aden.

Population

30.8 million (2021).

Currency

Yemeni Rial (YER).