The power of prayer
Fran Lawson, our supporter engagement officer, looks back at her journey with Mary's Meals.
Published on
My journey with Mary's Meals began a decade ago when I was moved to hear about its work to reach the world's poorest children with the promise of a daily meal in school.
I was so impressed to hear how one simple, yet effective idea, was helping to change the lives of desperately hungry children, giving them the chance to gain an education and hope of a brighter future.
So, I started volunteering with the charity, helping to raise awareness through giving talks during parish visits, eventually taking the opportunity to switch from a career in sales to working for Mary's Meals.
My role has allowed me to put my faith into action – just like our founder Magnus MacFarlane-Barrow did 20 years ago when his desire to help others through emergency relief work led to the birth of Mary's Meals.
Faith drew me to support the mission of Mary's Meals and this month is a special time for me, as for many other Catholics, to celebrate our devotion to Our Lady and to give thanks for her continued guidance and protection for this vital work of ours, which is reaching more than two million hungry children every school day in 20 of the world's poorest countries.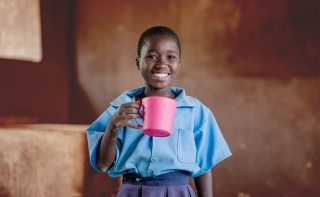 During May, I always think of flowers for some reason, perhaps because my early memories are of special flowers adorning a statue of Our Lady at my local church and singing the hymn 'Bring Flowers of the Rarest' at school.
It is perhaps apt that I have this association as I often think of each gift to Mary's Meals as a seed that is planted and is growing into something wonderful.
With our Pray In May campaign, we are inviting people to pray that the work of Mary's Meals continues to flourish and grow, and that more children throughout the world will see their lives transformed by receiving a daily meal in a place of education.
Mary's Meals is built on a foundation of prayer, and one of the ways in which our supporters can join our mission is through the power of prayer.
At a time when people may feel they are unable to donate, joining our Pray In May campaign – perhaps just taking a minute out of their day – is an important way to show unity for our work and to let the children who eat Mary's Meals know that there are people thinking of them.
People can also get involved by including a bidding prayer for Mary's Meals at Mass; praying the Rosary for the charity; encouraging their church to host a Holy Hour or asking their parish groups to organise a time of prayer for Mary's Meals.
We have produced a series of downloadable resources to support these activities, which are available on marysmeals.org.uk. We are also offering beautiful First Holy Communion gift cards that will feed a hungry child for a year for just £15.90.

By encouraging people to join us in prayer during May, we are sending a big wave of love to those children who eat our nutritious school meals.
We can give strength to those poverty-stricken communities where Mary's Meals is a beacon of hope and is light in darkness for those suffering from the challenges of conflict, extreme hunger and natural disasters in places including Ethiopia, Yemen and South Sudan.
At this time, I like to reflect on one of my favourite quotes from His Holiness Pope Francis: 'You pray for the hungry. Then you feed them. That's how prayer works.'
An incredible 2,279,941 hungry children will eat our life-changing meals today, made only possible because of our wonderful supporters.
As we continue to move forward with our mission, we recognise a difficult year lies ahead, with many of our dedicated supporters affected by the cost-of-living crisis here in the UK, and conflict and natural disasters making our work overseas both challenging and indispensable.
Despite the uncertainty ahead, we remain determined to keep our promise to the children who rely on Mary's Meals.
We hope your readers will join us in praying for our unwavering mission, and we put our hope in the continued generosity and kindness of all those who believe, like we do, in the importance that every child should receive a daily meal in their place of education.
If you would like to find out more about our Pray In May campaign or would like a volunteer from Mary's Meals to give a talk in your church, please visit our webpage for churches or call 0800 698 1212.