Churches and prayer
Our work
Mary's Meals is named after Mary, the mother of Jesus, who brought up her own child in poverty. Mary's Meals grew out of the Christian Catholic faith of our founder, and the values and ethos we hold reflect this.
We consist of, respect, and reach out to people of all faiths and none.
The roots of our mission are to be found in Medjugorje, a small village in Bosnia-Herzegovina, where it is claimed the Virgin Mary has been appearing since 1981. 
Pray for our work
One way you can support our work is by saying the Mary's Meals prayer.
Our Father, give us this day our daily bread and forgive us for the times when we take more than our share of the bread that belongs to all.
Let us help You fill the starving with good things, not with scraps from our table.
Teach us how to share what is not ours to keep. Clothe us with Your love that we may complete each good work You created us to do.
Place in our hearts Your compassion for each starving child and use our little acts of love so that they starve no more.
Amen.
You can download our prayer card to print out and share.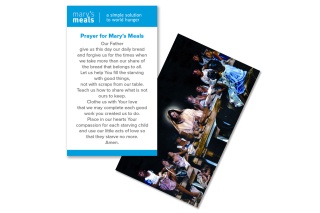 Church talks
Your church can help us grow our mission by hosting a volunteer speaker. Across the UK, we have wonderful volunteers who love to share the Mary's Meals story in community – and especially in churches.
Please get in touch to request a talk, either virtually or in person, or if you would like to volunteer to give these talks.
Gifts of hope
Please visit our shop to view our beautiful range of faith-based gifts.