From field to plate: a feat of planning and coordination
How Mary's Meals reaches more than 2.4 million children around the world with a daily school meal
Published on
Providing daily meals to more than 2.4 million children in 18 countries every school day is no small task.  
Behind the scenes, there are large-scale logistics operations taking place to make it possible for Mary's Meals volunteers to cook and serve our school meals.  
Whether it be volunteers, staff members, partner organisations, supporters or fundraisers, our charity movement is made up of thousands of individuals who share our belief that no child should live in poverty or endure this world of plenty without a daily meal. Without them, none of it would be possible.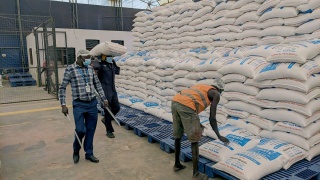 Supplying our school meals
The journey of a meal starts with our suppliers: organisations that distribute ingredients to schools on our behalf and keep our supply chain safe and running to schedule.  
In certain countries, such as Zambia, suppliers set up warehouses in different locations to aid with transporting food to schools. In Malawi, food is delivered directly from the supplier's main location to schools, to be offloaded and sorted by volunteers. While in Kenya and Liberia, suppliers operate from a warehouse. Whenever deliveries arrive at a school, a Mary's Meals representative will conduct rigorous checks to ensure orders are both correct and of the high standard we expect.  
The ingredients we use in our meals are sourced locally wherever possible and differ depending on local tastes, culture and availability. A key characteristic of our work is our long-term commitment to sustainability and the communities we serve, and it is essential that our school meals use ingredients that are reliably available, simple to prepare and cost effective.  
We often say that our charity school feeding programme is owned and run by local communities. What we mean by that is that we work in agreement with these communities that, so long as they participate in, nurture and sustain the school feeding programme, we will continue to provide the necessary ingredients, training, monitoring and support – until the time comes that we no longer need to do so.  
In a similar way, if suppliers deliver to a consistently high standard, we will continue working with them year after year. We have found that this assurance has positive outcomes for both ends of the supply chain: we receive high quality produce, and suppliers and local farmers have the confidence to invest in farming methods and infrastructure to ensure supplies are delivered smoothly and of the highest quality.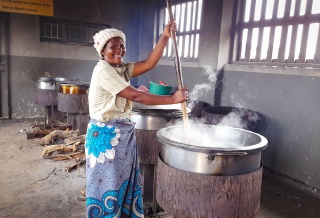 It all starts with partnership 
Places of education come in all different shapes and sizes across the 18 countries where our meals are served. Classrooms can range from purpose-built concrete rooms to a patch of ground shaded by a tree. When a place of learning becomes part of our school feeding programme, our first requirement is that they can provide a safe, hygienic and properly equipped cooking space where school meals can be prepared.  
The construction of kitchens and storerooms is managed by the community, and they use whatever building resources are available to them. This means the spaces where our meals are cooked, and supplies are stored, can also vary greatly. More often than not, kitchens are located on school property, but this is not possible in certain contexts. In Syria, for example, where we feed more than 5,000 children every day across the city of Aleppo, our meals are prepared in one school that has reliable access to water and electricity, then distributed by volunteers to the 17 schools and community centres where the children attend lessons. 
Equal partnership is fundamental to our programme. We ask that schools and communities contribute as much as possible, and we provide ingredients, training, monitoring and unwavering support every step of the way. We train volunteer cooks (many of whom are mothers, grandmothers or other relatives of the children we feed) on how to prepare the meals – as well as portion sizes, hygiene practices, child safety and serving methods. Volunteers tasked with the essential job of overseeing the storage and security of supplies also receive training on stock control, mealtimes and data management.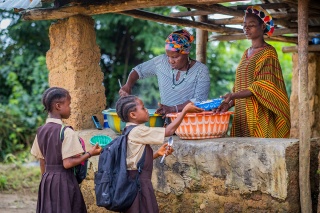 Remarkable people making the unexpected possible 
Throughout our history, we have been blessed by incredible individuals who go above and beyond to contribute to the running of our school feeding programme and help to make it a success.  
To serve children living on the Malawian islands of Likoma and Chizumulu, we must use boats to bring everything needed to prepare and cook the delicious mugs of porridge we serve to children there. When the boats arrive at each of the islands, people from the local communities will make their way to the port to collect the bags of grain and supplies and deliver them to the schools where volunteers can turn them into tasty meals.  
Meanwhile, in the Central Plateau region of Haiti, community volunteers carry bags of ingredients across three hills by donkey to transport the food served to children at Ecole Communautaire Saint Michel de Morne Mouton. This extremely remote school was founded more than 30 years ago by a man who had to drop out of education early to help his family farm the fields. He donated a section of his land at the top of the mountain to make way for the school's construction, then attended the school himself to gain the education he missed out on at such a young age. Today, as the school's principal, he and our partner organisation, Summits Education, serve more than 200 primary school learners here every school day.  
While we face many challenges to provide a daily meal to more than 2.4 million vulnerable children every school day, we are continually spurred on by the incredible support, compassion and commitment of our global family. Small acts are bringing about big changes for the children and communities around the world who rely on our school feeding programme.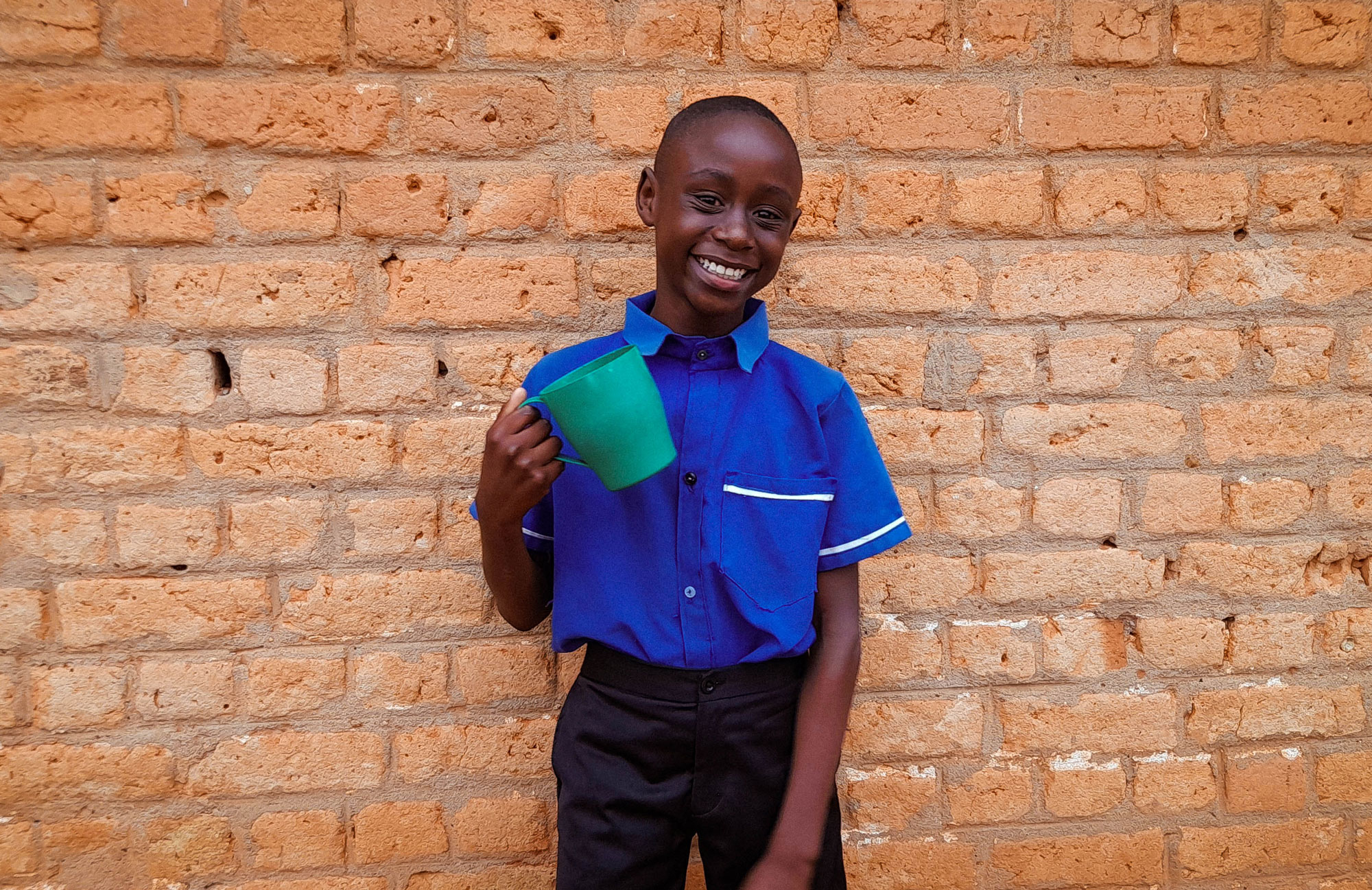 It costs just £19.15 to feed a child with Mary's Meals for a whole school year.