Malawi
Mary's Meals feeds 1,080,852 children every school day in Malawi!
Published on
Malawi is one of the poorest countries in the world, with a staggering 70% of the population earning below the International Poverty Line of $2.15 a day. Malawi has consistently high levels of food insecurity and the population is increasingly vulnerable to the effects of climate change.   
Malawi faces huge challenges in education, access to healthcare and widespread child malnutrition – 39% of children under five have stunted growth. As families struggle to find enough food to eat, survival takes priority over education. Almost half (45.9%) of primary school- age children drop out of school early.  
The UN estimates that around half of the populations of the Central and Southern regions of Malawi have insufficient food intake.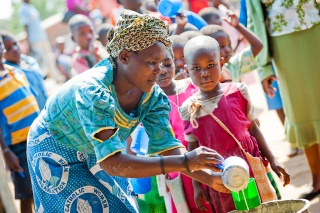 Mary's Meals in Malawi 
Mary's Meals has been serving school meals in Malawi since 2002, when our founder met a 14-year-old boy who told him: "I want to have enough food to eat and to be able to go to school one day." It is where Mary's Meals began our work by feeding just 200 children. 
We now reach more than one million children in Malawi. This is our largest programme, delivered by Mary's Meals Malawi in 1,001 schools and by our partner MCSPA in 69 schools. 
We feed more than one million children every school day with the support of tens of thousands of volunteers from local communities across the country, who prepare and serve the nutritious meals.  
The majority of schools receiving Mary's Meals are in the Southern region, with large numbers also supported in both the Central and Northern regions of Malawi. We also reach pre-school age children in nurseries, who are most vulnerable to the effects of malnutrition. We operate out of Blantyre in southern Malawi, and have more than 100 employees who manage, deliver and monitor our programme.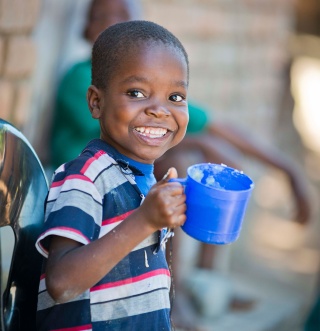 When did we start working in Malawi?

Mary's Meals began working in Malawi in 2002.

We began feeding 200 children, our very first school feeding programme.

What is our impact?

Mary's Meals now provides daily school meals to more than 30% of primary school age children in Malawi.

We serve Mary's Meals at 1,070 places of education in Malawi.

How many children do we feed in Malawi?

We currently feed 1,080,852 children in Malawi.

What meal do we provide?

The meal provided is a maize and soya porridge locally referred to as likuni phala, fortified with essential vitamins and minerals.

Where are we based/where do we operate?

We operate out of Blantyre in southern Malawi.