Liberia
Mary's Meals feeds 151,968 children in Liberia every school day!
Published on
In Liberia, like many poor countries, survival often takes priority over education – unless there is the incentive of a meal being provided at school. 
Liberia, known officially as the Republic of Liberia, is a country on the West African coast. It is bordered by Guinea to the north, Sierra Leone to the north-west, Ivory Coast to the east and the Atlantic Ocean to the south/south-east. 
Liberia is considered to be one of the most ethnically diverse nations on the planet, with more than 30 native Liberian languages in regular use. English is commonly spoken as a means of connecting people from different regions. 
Liberia's children suffered greatly as a result of a brutal 14-year civil war, which destroyed the majority of schools and forced most of the country's children out of education.  
Despite a decade of unbroken peace, Liberia still faces huge challenges to re-establishing its education system. More than 50% of all students do not finish primary school, and poverty and gender inequality continue to hinder access to education, with girls completing an average of 3.5 years of school and boys 6.2 years. 
The country is also still dealing with the legacy of the 2014-15 Ebola outbreak, when the disease closed schools, crippled economies and wiped out livelihoods. It is likely Covid-19 will leave a similarly debilitating legacy.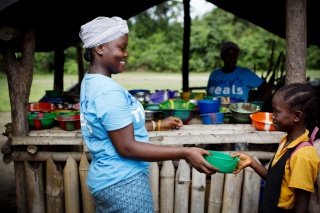 Mary's Meals in Liberia 
Mary's Meals currently serves school meals to 151,968 children in 669 schools across Liberia. 
The schools we support are mainly in remote and often inaccessible areas. Delivering food to these schools, deep in the jungle, via off-road routes, is particularly challenging in rainy season when monsoons are common. 
Mary's Meals has been working in Liberia since 1992. Our early work there included a mobile health clinic for difficult-to-reach regions, and we started serving school meals in 2006. 
We are the only organisation serving school meals in Bong County. We also deliver our programme in Bomi, Grand Cape Mount, Gbarpolu and Montserrado counties. 
While we strive to source as much of our food locally as possible, it is sometimes necessary to order from further afield – as much as five months in advance – to ensure we can keep our promise to feed the hungry children we serve in Liberia. 
When did we start working in Liberia?

Mary's Meals has been working in Liberia since 1992. Our school feeding programme began in 2006.

How many children do we feed in Liberia?

151,968 children in 669 schools.

What meal do we provide?

Typical school meal is rice and peas. (Some schools have successful vegetable gardens where they grow additional food for the meals.)

Where are we based/where do we operate?

Bong County, Bomi, Grand Cape Mount, Gbarpolu and Montserrado counties

What is the capital of Liberia?

The capital city of Liberia is Monrovia

What language(s) are spoken in Liberia?

English is Liberia's official language and serves as the common language, that helps connect people of various linguistic backgrounds

What currency is used in Liberia?

The dollar (LRD)

What is the population of Liberia?

Liberia has a population of 5,281,930