Benin
Mary's Meals feeds 3,525 children every school day in Benin!
Published on
Food insecurity, low incomes, malnutrition and gender inequality are just some of the key challenges facing impoverished people in Benin. Almost half of the population is currently living below the International Poverty Line ($2.15). As a result, in Benin, 32.2% of children under five have stunted growth and around 52% of children do not complete primary education. Almost two thirds of the population is unable to read and write.  
The official language in Benin is French, but a diverse range of more than 50 indigenous languages are spoken. Most of the population lives on the southern coastline of the Bight of Benin, part of the Gulf of Guinea. Benin is bordered by Togo to the west, Nigeria to the east, Burkina Faso to the north-west, and Niger to the north-east.  
Benin's main export is cotton, with a smaller trade in fruit, nuts and oilseeds.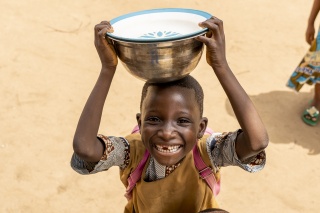 Mary's Meals in Benin
Mary's Meals has been serving school meals in Benin since 2011, working closely with the Sœurs de Marie de la Médaille Miraculeuse. We feed children living in severely impoverished communities in five school across the country.  
We are reaching 3,525 children at schools based in Hondji (southwest Benin), Biro (northeast Benin), Adido (central Benin) and Hozin (southeast Benin) every day. 
Latest News
When did we start working in Benin?

Mary's Meals has been providing meals in Benin since 2011.

How many children do we feed in Benin?

We are currently feeding 3,525 children in five schools.

What meal do we provide?

The typical school meal we serve is maize or rice with beans, vegetables, meat, fish or eggs.

Where are we based/where do we operate?

Our programmes are in schools in severely impoverished communities in the central to southern-eastern areas of Benin.