Lebanon
Mary's Meals feeds 1,446 children every day in Lebanon!
Published on
Lebanon, officially known as the Lebanese Republic, is a country in the Levant region of Western Asia. Lebanon faces serious economic, political and financial challenges. 
According to the World Food Programme, 25% of Lebanese households are food insecure. 
A quarter of Lebanon's population are refugees – the fourth largest refugee population in the world. Currently around 1.5 million refugees from Syria are in Lebanon having fled a conflict-driven humanitarian crisis in their home country.  
There is also a similar number of vulnerable Lebanese people, and more than half a million people are seeking refuge from conflict in Palestine. 
On 4 August 2020, a large amount of ammonium nitrate stored at the Port of Beirut – the main port in Lebanon – exploded, causing more than 200 deaths, 7,000 injuries and billions of dollars of damage. 
The Lebanese Pound has plummeted in value, leading to concerns about hunger for most Lebanese families as well as the entire refugee population – while petrol, diesel and medicine shortages continue to affect the country. Fewer than half of all school-age refugee children in Lebanon are in formal education.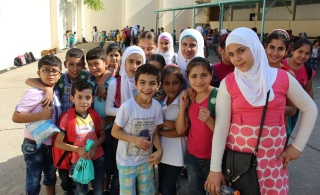 Mary's Meals in Lebanon
Mary's Meals has been serving school meals in Lebanon since 2016. 
Working with a trusted partner organisation, Dorcas, we are feeding children in areas around Beirut, where there is a large refugee population. This includes children attending school in Antelias, children at a community centre in the Aley District of Mount Lebanon, and children at an informal education centre located in the Bourj el-Barajneh refugee settlement. 
Lebanese children attend lessons alongside Syrian refugee children, and mothers from both communities volunteer to prepare the meal, helping to break down barriers and build relationships.  
We are currently reaching 1,446 children every day in four places of education.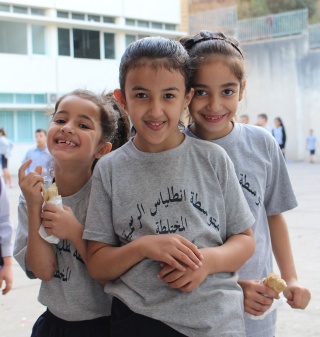 When did we start working in Lebanon?

We have been working in Lebanon since 2016.

How many children do we feed in Lebanon?

We are currently feeding 1,446 children in four educational centres.

What meal do we provide?

A sandwich wrap and a piece of fresh fruit or vegetable

Where are we based/where do we operate?

Our work in Lebanon focuses on areas around Beirut with a high refugee population. We work with a trusted partner organisation, Dorcas, to deliver the programme.

What is the capital of Lebanon?

The capital city of Lebanon is Beirut.

What language(s) are spoken in Lebanon?

The main language spoken in Lebanon is Arabic, often spoken in a variety of dialects.

What currency is used in Lebanon?

The currency used in Lebanon is Lebanese Pounds (LBP).

What is the population of Lebanon?

6,769,222.