Madagascar
Mary's Meals feeds 88,569 children every day in Madagascar!
Published on
Madagascar is an island country in the Indian Ocean off the coast of southern Africa, where farming, fishing and forestry form the backbone of the economy. By area, Madagascar is the fourth largest island in the world, with around 26 million inhabitants.  
Madagascar's isolation contributes to the high levels of poverty found in the country. Around 76% of people in Madagascar earn below the International Poverty Line ($2.15). The vast majority of sustenance farming is small-scale, with seven out of 10 smallholder farmers owning no more than 1.2 hectares of land. As a result, food production is insufficient to sustain the population. As the world's water levels continue to rise, Madagascar's location makes it very susceptible to cyclones and other climate driven disasters.  
Madagascar's main exports include coffee, tea and spices, and most of the population speak Malagasy and French. It is home to about 12,000 of the world's plant species.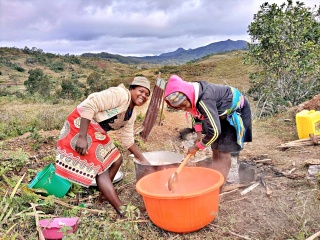 Mary's Meals in Madagascar
Mary's Meals has been serving school meals in Madagascar since 2019. 
We feed children living in the north, central and southeast regions of Madagascar, working in partnership with Feedback Madagascar and Grandir Dignement. 
Four of our programmes in Madagascar take place in detention centres. The children we feed are taking part in prison education programmes, and our nutritious meals give them both vital nourishment and a chance to learn. 
We are currently reaching 88,569 children in 539 primary schools and 6 detention centres.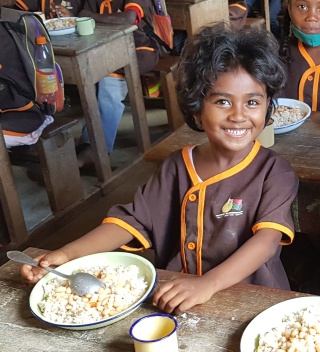 When did we start working in Madagascar?

We have been working in Madagascar since 2018.

How many children do we feed in Madagascar?

88,569 children in 539 places of education of which 6 are detention centres.

What meal do we provide?

A typical school meal is rice with pinto beans/ lentils/ peanuts and greens. Children in detention centres receive rice with vegetables and meat or fish.

Where are we based/where do we operate?

North, central and south east regions of Madagascar.