Niger
Mary's Meals feeds 204 children every school day in Niger!
Published on
Niger is one of the largest land-locked countries in West Africa. It is named after the Niger river and over 80% of its land is located in the Sahara Desert, making it one of the world's hottest nations. 
Niger sits on some of the largest uranium deposits on the planet, but the country is in great poverty and debt. The economy is based on subsistence agriculture and the export of raw commodities – main exports include oilseeds, mineral fuels and chemicals.  
The country's official languages are French and Arabic, but more than half the population speak Hausa. Most people identify as Muslim.   
Niger's short rainy season and the rate of growth in population are just some of the reasons for widespread hunger. Almost half of the population earn below the International Poverty Line of $2.15 per day.   
In Niger, an estimated 1.6 million children are out of school. Desperate children can resort to stealing food and are sent to overcrowded remand centres where they spend long periods awaiting trial. Many of these children have never even set foot in a classroom.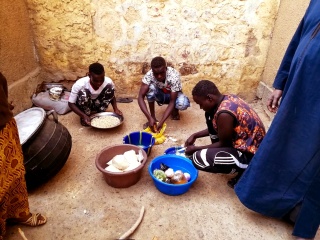 Mary's Meals in Niger 
Mary's Meals has been serving school meals in Niger since 2020. 
We work with a partner, Grandir Dignement, to serve meals to 204 children in five youth remand centres in Niger. 
All of these children, who are between ages 8 and 18, are taking part in prison education programmes. Our nutritious meals give them both vital nourishment and a chance to learn. 
Latest News
When did we start working in Niger?

Mary's Meals has been serving school meals in Niger since 2020.

How many children do we feed in Niger?

We are currently serving 204 children in five youth remand centres.

What meal do we provide?

A typical meal consists of rice and beans or meat with vegetables.

Where are we based/where do we operate?

One detention centre in capital city Niamey, one centre in Dosso and three centres in central southern Niger, in the towns of Maradi, Zinder and Tahoua.

What is the capital of Niger?

The capital city of Niger is Niamey.

What language(s) are spoken in Niger?

French is the official language of Niger, but Hausa is the most spoken.

What currency is used in Niger?

The West African CFA franc (XOF).

What is the population of Niger?

The population of Niger is 26,038,328.